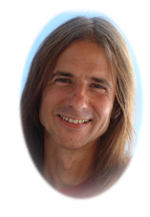 Guy Dance Water Energizer
When we are born, our bodies are over 90% water. When we die, our bodies are typically less than 60% water. Recent studies prove that the aging process, and an increase of body fat contribute to the decline of water content in the body. The average 45 year-old man has about 65%-70% of water in the body, but an obese man of the same age will have only about 45%, and the water content of the average man aged 70 decreases to 45%-50%. Aging is a process of slow dehydration. To maintain health as we age, we must fully hydrate all the cells in our body. Albert Szent Gyorgyi, who received the Nobel Prize for the discovery of vitamin C, wrote "The molecular structure of water is the essence of all life."

Our cells need nutrients to be delivered inside them, and waste products or toxins to be removed. Water does these vital tasks. Every function in our cells needs water. Even the proteins in our body are held together by thousands of water molecules. They would fly apart without all these water molecules surrounding them. We can live up to 90 days without food, but only 3 days without water. WATER IS LIFE IN OUR BODIES. Unless you are drinking water which is structured to hydrate your body, your cells will be dehydrated and sick. Bottled water, spring water, reverse osmosis water, and distilled water are not correctly structured to hydrate your body.

You may be drinking 8 glasses of water a day (half a gallon). If your urine is completely clear after drinking this amount of water, then the water is passing into your blood and straight out through your kidneys without getting into your cells. It costs the body a great amount of physiological energy to structure water so that it can be used in the body, so there is a huge benefit in drinking structured water.

I drink more than half a gallon of Guy Dance Water a day, but after that my urine is still not completely clear, showing that the water I drink has entered my cells. The water is now absorbed into my body very quickly and does not sit in my stomach. Before I made the Guy Dance Water Processor, my urine was completely clear most of the day, and the water I drank sat in my stomach for 20 minutes or more.

Why spend money on expensive supplements and vitamins, if they cannot get into your dehydrated cells?

Buy the Guy Dance Water Processor so your other healthy habits really can benefit you!
BENEFITS
These are some of the wonderful healing benefits of energized water:

- clear vibrant skin
- more energy and vitality
- eyes become clearer and brighter due to detox
- helps hair regain original color
- greater cell hydration
- cellular level detox

BEFORE

June 2003, age 48 - four years before using Guy Dance Water
(untouched 6Mpixel photo)

AFTER

September 2007, age 52 - after using Guy Dance Water for 3 months
(untouched 6Mpixel photo)

skin is dull and not shiny,
not well hydrated;
eyes dull, skin at outside of eyes sunken in, showing wrinkles

skin is shiny and clear,
showing much improved hydration;
eyes very bright, skin at outside of eyes full, without wrinkles
I did not change any other major lifestyle habits after 2003 (daily yoga since 1991, daily chi gong since 1997, completely vegan diet since 1985).
TESTIMONIALS
"The difference between the treated and untreated water is fantastic! The Guy Dance Water makes me salivate when I drink it – I have never had this before." Dawn Mazur, San Jose, CA

"The Guy Dance Water is like velvet. There is no comparison with other water." Joie Dawson, Hayward, CA

"The Guy Dance Water quenches your thirst right away. I feel all energized after drinking it." Martha Zlatar, San Francisco, CA


To learn more about the processor, please read the pure healing water guide.
The Guy Dance Water postprocessor is designed to enhance the energy of any type of water. Ten very powerful rare earth magnets create hexagonal structure in the water, and clear the homeopathic memory of pollutants from the water. Distilled and reverse osmosis water still contain this homeopathic memory of the toxins originally in the water. The water passes through a food grade 1/4 inch tube between the magnets. The center picture shows the processor being used with an existing reverse osmosis unit - you place it just before the spigot of your existing undersink filter. The left and right photos show a simple method of buying water from a water store, and running it though the Guy Dance Water Processor from the top bottle into an empty bottle below.

Pay by credit card using the Add to Cart button below. Please call (408 260 8735) or email guyharriman@hotmail.com if you have any questions.
Guy Dance Water Postprocessor $250 - free shipping inside the USA

To learn more about the processor,
please read the pure healing water guide.





Guy Dance Water Postprocessor - clears water memory, structures and energizes any water source. Sense and feel the difference!

$250 with free shipping worldwide.
AVAILABLE NOW